You may have seen that we have embarked on a 12 week challenge with our partner GenieUs Genomics to make a highly focused and concentrated effort towards finding new, efficient and safe treatment options for a nervous system disease, Amyotrophic Lateral Sclerosis (ALS).
ALS is a progressive, degenerative disease that destroys the nerve cells that control voluntary muscle movement. These cells, called "motor neurons," run from the brain through the brainstem and spinal cord to muscles that enable movement in our arms, legs, chest, throat and mouth etc. As these motor neurons are lost, the muscles they control become less functional, causing muscle weakness, disability, and eventually death. Unfortunately, there is no effective treatment for ALS and the options currently available only provide modest benefits. This is why Arctoris and GenieUS are working together to find and develop new treatments.
GenieUs is using the power of the human genome to unlock new solutions for neurodegenerative diseases. By using their machine learning and molecular dynamic modelling tools, they can identify novel potential drug targets as well as compounds that can act on these targets. The most favorable molecules are then shortlisted and taken up by Arctoris.
At Arctoris, we use Ulysses, our unique, fully automated drug discovery platform to generate robust, reliable and reproducible data at speed, leading to faster progression into the next development stage. With this collaboration we hope to make a step forward toward finding a treatment for ALS, making use of the power of machine learning combined with robotics.
Now that we completed the first 4 weeks of the challenge, let's take a look at our achievements to-date.
We grew and differentiated astrocytes and motor neurons in a highly reproducible way, employing among other techniques cell imaging for differentiation markers.
We showed that ALS motor neurons express significantly higher eIF2α phosphorylation levels than healthy motor neurons. And that this can be replicated in healthy motor neurons (to mimic the disease state) by the addition of a known eIF2α kinase.
We tested the impact of BX559 – a potent activator of glial cells that induces a distinct ALS phenotype – on astrocytes, by measuring the amount of cytokines (i.e. cell signaling messengers). To determine the optimum dose and time for BX559 to elicit an inflammatory response in astrocytes, we measured cytokine release at different drug concentrations and time points. We established a reasonable dose-response at 24 h but suspected that we missed the peak of activation so we will now be repeating this work at an earlier time point to ensure we are selecting the best assay parameters.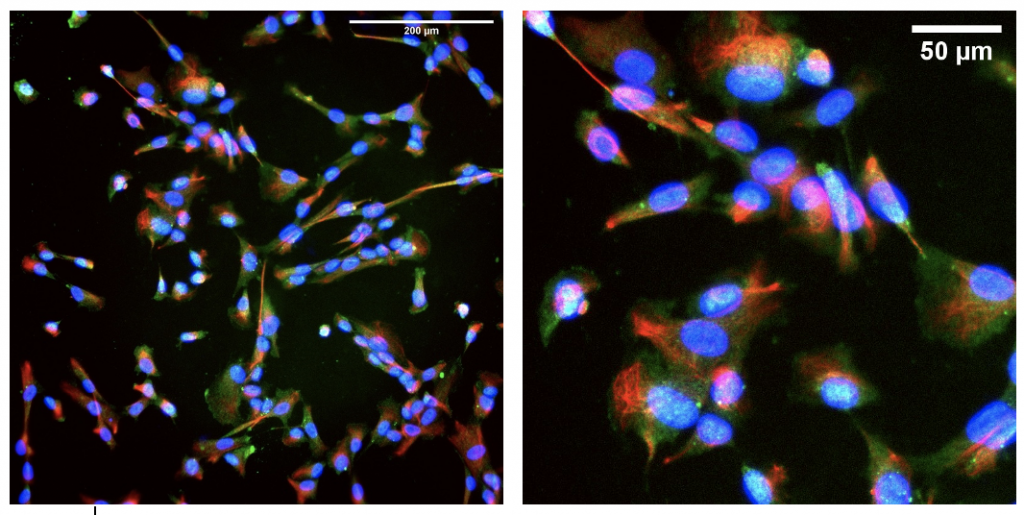 Our goals for the coming weeks will be to test whether our potential drug candidates can have an effect in ALS therapy. This is how it will be done.
We will measure the levels of eIF2α phosphorylation in healthy and diseased motor neurons in presence of increasing doses of 4 test compounds. This will help us detect any benefits from them, hopefully by reducing the levels of eIF2α phosphorylation. At the same time, we will also measure any toxicity caused by the test compounds.
Since we expect that the secretion of inflammatory cytokines leads to the loss of motor neurons, we will test the effect of 4 possible compounds in counteracting cytokine release from astrocytes upon BX559 treatment, evaluating if this can favour an anti-toxic effect upon incubation with motor neurons.
Like any scientific project, we have had to think on our feet, and have been reminded of some of the challenges that researchers face – for example the results we saw in week 4 were not what we expected. Yet, reacting to unexpected data is an important part of any scientist's life and something we pride ourselves on here at Arctoris – after all, the essence of science is making decisions based on data, and not the other way round. We enjoyed discussing the data with our partners at GenieUs – a great collaboration requires great partners!
We have also shown again that with our unique automated platform, Ulysses, we can improve performance, accuracy, precision, and reproducibility by leveraging robotic experiment execution, thereby reducing errors and improving quality and speed, leading to deeper insights and accelerated progress compared to manual methods. Working in a fully automated lab with state-of-the-art technologies not only allows us to run several experiments at once but we can also precisely control the conditions and setup of each experiment. This enhances productivity while increasing the reproducibility and accuracy – the most important prerequisites for robust science – and the basis for any successful drug discovery program.
You can keep up with the 12 week ALS challenge here and look out for more updates on our blog!