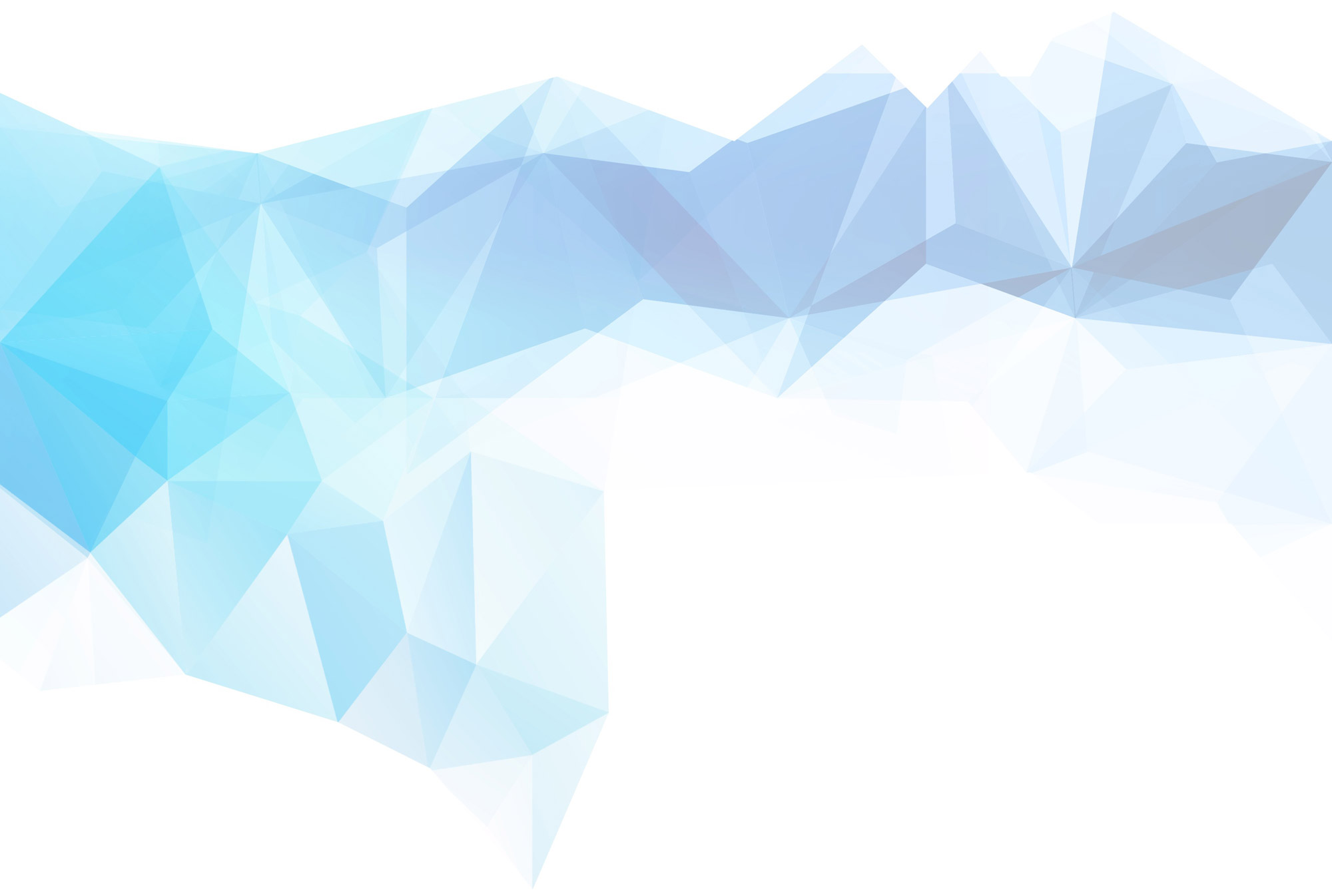 Contribute to the fight against COVID-19
COVID-19 is an unprecedented public health challenge – but we can beat it by working together. Researchers around the world are working on novel therapeutics and vaccines to treat and prevent COVID-19. However, their work is often hindered:
Many laboratories, scientific suppliers, and researchers themselves are in lockdown, or have to adhere to social distancing, preventing them from conducting their life-saving research.
Often there is lack of access to specialised equipment and expertise, making it more difficult to do meaningful experiments.
Timelines are immensely tight, as the global efforts to halting the spread of SARS-CoV-2 and treating those suffering from COVID-19 must not get delayed.
JAK Inhibitors Deep Profiling Demonstration
Comprehensive dataset on 24 small molecules against the family of Janus kinases​
The Arctoris platform enables accelerated COVID-19 research globally
We offer our robotic platform, state-of-the-art equipment, and full support from our experienced team to assist any researcher in accelerating their COVID-19 research from bench to bedside. To that end, Arctoris has established and validated a set of key assays, including biochemical assays against the SARS-CoV-2 main protease (Mpro), papain-like protease (PLpro), Spike:ACE2 and several others. Arctoris enables researchers to conduct precise therapeutics and vaccine research at the click of a button – fully remotely, even when you and your lab are in lockdown, enabling a broad range of assays to support your work on COVID-19.
Biochemical Profiling
Human & SARS-CoV-2 targets of relevance to COVID-19
Pricing available on request
Human targets: JAK1, JAK2, JAK3, TYK2

SARS-CoV-2 targets: Mpro, PLpro, Spike/ACE2 PPI

RNA dependent RNA polymerase

Mechanistic and kinetic insights
Molecular Assays
SARS-CoV-2 pathogen detection (research purposes only)
Pricing available on request
qPCR/digital PCR: SARS CoV-2 nucleic acid detection

Gene expression panels >550 genes

Elucidate inflammatory & signalling pathways

Monitor expression levels of markers
Cellular Assays
Immunoassay solutions for viral research
Pricing available on request
Cytokine detection: Lumit™/ELISA

Multiplex cytotoxicity assays

Gain insights into immune responses
JAK Inhibitors Deep Profiling Demonstration
Following the announcements that Novartis, Pfizer and Eli Lilly are repurposing JAK inhibitors to treat severe COVID-19, Arctoris has deployed its unique platform to generate comprehensive mechanistic pharmacology for both marketed and research inhibitors against this family of kinases to understand new therapeutic opportunities.
Onboarding

: 4 target-based assays (JAK1, JAK2, JAK3, and TYK2)

Deep mechanistic profiling

: 24 small molecule inhibitors (8 marketed, 16 research) against the panel of kinases; fully automated in <10 hours

Analysis

: 45,848 IC50s and over 1 million data points to give a range of full potency, kinetic and mechanistic insights of the inhibitors

Timeline

: less than 100 hours in total including 4 new assays developed, optimised & fully automated, and comprehensive datasets generated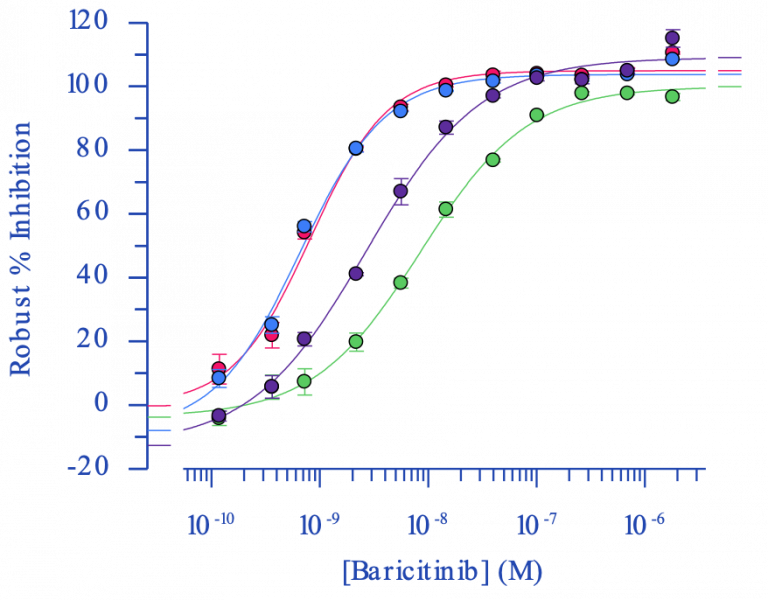 Comprehensive biochemical profiling using contact-free picolitre digital dispensing technology & true independent experimentation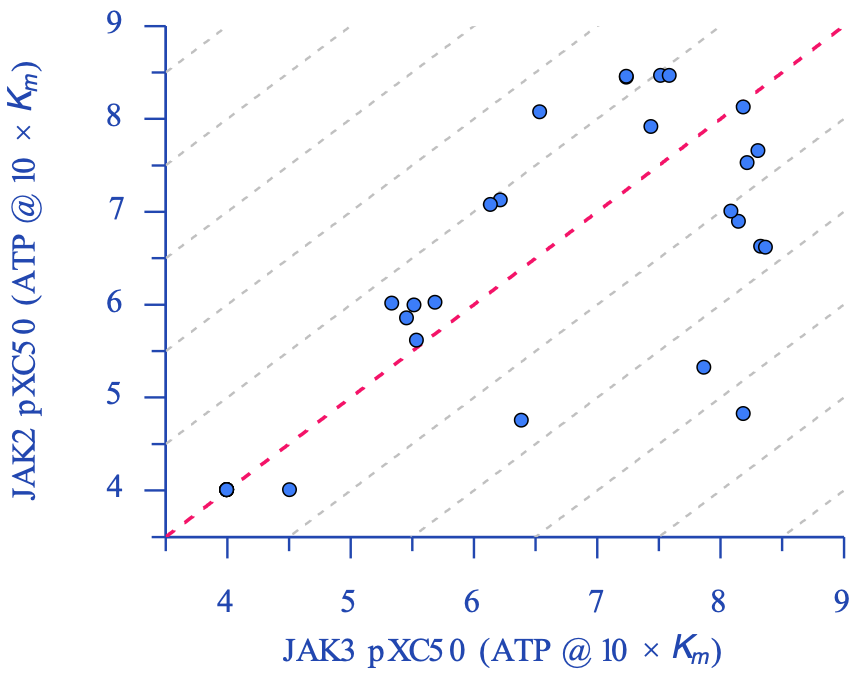 Comparative potency, selectivity and kinetic studies against a panel of kinase targets
To find out how to accelerate your project timelines and generate higher quality data, reach out to us today.