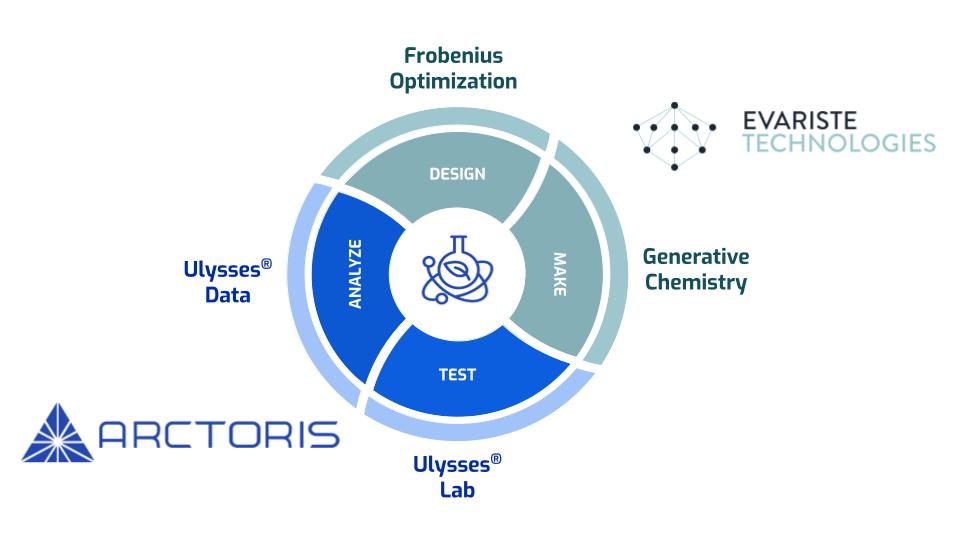 Arctoris and Evariste Technologies announce a joint venture to develop novel small molecule kinase inhibitors for non-small cell lung cancer (NSCLC). The partnership brings together two highly synergistic approaches for AI-guided and robotics-powered molecule design, to significantly accelerate the DMTA (Design, Make, Test, Analyze) cycle.
Oxford and London – Arctoris, a tech-enabled biopharma company, and Evariste Technologies, an AI-drug discovery company, today announced they have formed a joint venture to identify novel small molecule kinase inhibitors for treatment of patients with Non-Small Cell Lung Cancer (NSCLC).
Current treatment options for NSCLC are limited, especially in advanced stages. It has been shown that the proto-oncogene cMet is mutated or upregulated in approximately 5% of all NSCLC cases. While cMET has been successfully targeted by two recently approved drugs (Tepotinib, Capmatinib), rapid development of resistance has been reported and there is a clear need for improved second-generation cMET inhibitors to overcome resistance.
The two companies are combining their platforms for AI-guided and robotics-powered drug discovery to develop a set of novel kinase inhibitors against cMET. The partnership will bring together two highly synergistic approaches – quantitative decision making and state-of-the-art generative chemistry, combined with real-time biological and biochemical profiling and data generation, to significantly accelerate the design-make-test-analyze cycle. The two companies will also use their strong links to leading centres for NSCLC treatment to leverage clinical insights, inform their discovery and development efforts and directly address clinically relevant liabilities limiting the effectiveness of currently available therapies.
"We are really excited to be working with Arctoris on this project. There is a huge need for next generation cMET inhibitors for NSCLC. This is a cancer that affects millions globally, and we hope that we can bring meaningful benefit to some of these lives in the near future," shares Dr. Nicholas Firth, CEO of Evariste Technologies.
Arctoris CEO Martin-Immanuel Bittner MD DPhil FRSA commented on the joint venture, "Together with our partners at Evariste, we are developing novel treatment options in NSCLC against a fully validated target, where first generation inhibitors can be improved on in a clinically meaningful way. Combining patient-derived insights on resistance and toxicity patterns with AI-powered molecule design and our robotic platform, Ulysses, we aim to develop superior next generation inhibitors within a significantly accelerated time frame."

The collaboration between Arctoris and Evariste is already underway and has identified novel, active chemical matter. "We look forward to keeping our community updated about the progress we are making within the joint venture between Evariste Technologies and Arctoris. We have had an incredible start already, and we look forward to continuing our work to develop better treatments options for patients worldwide", shares Bittner.

About Arctoris
Arctoris is a tech-enabled drug discovery company headquartered in Oxford and Boston. Arctoris combines its unique automation platform, Ulysses, with advanced computational approaches and a world-class team of seasoned drug hunters to guide and rapidly progress its wholly owned and partnered drug discovery programs in oncology and neurology.

Website: https://www.arctoris.com
Linkedin: https://www.linkedin.com/company/arctoris
Contact: media@arctoris.com
About Evariste Technologies

Evariste Technologies is a quant biotech that leverages Bayesian statistics and probabilistic modelling, in combination with expertise in medicinal chemistry and drug discovery, to accelerate the discovery of novel small molecule therapeutics. Evariste has a number of ongoing early stage programs focused primarily on oncology.
Website: https://www.evaristetechnologies.com/
LinkedIn: https://www.linkedin.com/company/evariste-technologies/
Contact: contact@evaristetechnologies.com